PRIESTLEY LGV - Lincolnshire - Peterborough - Spalding and surrounding areas
PRIESTLEY LGV TRAINING - PLEASE VISIT OUR NEW WEBSITE www.priestleylgvtraining.co.uk
PRIESTLEY LGV instructors have been training drivers to use, handle and be safe in heavy goods vehicles for many years.
We are well known within the LGV training community, having built up a well respected reputation among the many drivers and companies that have used our services.
We teach our trainees, not only the art of good roadcraft and the ability to handle a heavy goods vehicle, but the responsibility that comes with the job. The importance of professional behaviour behind the wheel is a vital part of being a professional trucker spending many hours on the roads of Europe and the UK.
We will always find the time to chat to our trainees about any problems that they encounter during their training period and are also willing to give further help and advice to those who have recently passed and are venturing out on the road for the first time.
Our training methods certainly go beyond simply teaching a novice to pass the test.
We pride ourselves on turning out a fully trained trucker at the end of the course, ready to go forward into the haulage industry and confident that they are capable of handling any job that comes their way.
Call us on 01945 440 726 or Email us at priestleylgv@btinternet.com
We have a very high proportion of 1st time passes. Those that do fail (usually through nerves on the day) usually come back and pass with flying colours at their second attempt.
We are not a car driving school that has branched out into truck training. We SPECIALISE in Commercial Vehicle Driver Training EXCLUSIVELY.
We use a full size artic with box trailer for our Class 1 training.
Those who have been trained with the PRIESTLEY LGV, will begin their first driving jobs with full confidence that they know exactly what they are doing, what the job entails and how to handle it.
Nobody leaves the PRIESTLEY LGV without full confidence in their own ability to handle the job.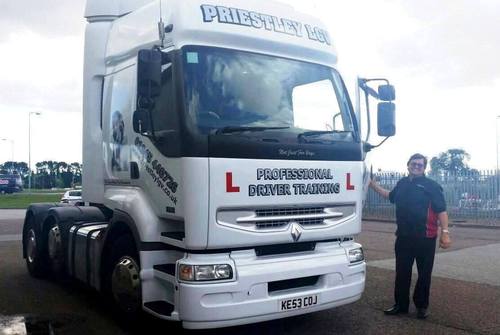 Find us on Facebook
Priestley LGV Training
For CPC Services Priestley LGV recommend Coopers Transport Training