Priestley LGV are proud to sponsor the popular and fast growing
MotherTruckers - Lady Truckers Club
A FREE club for all ladies working in the haulage industry.
Priestley LGV were happy to help in the making of the TV programme 'Mothertruckers'.
We offer the best training possible and are dedicated to encouraging women into the industry to enjoy the good life that trucking can offer and to make a positive career move into the haulage and logistics sector.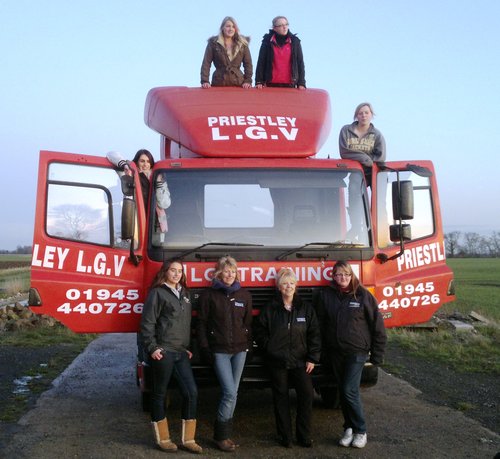 Filming MotherTruckers with Priestley LGV


MotherTruckers - Lady Truckers Club

Mothertruckers - Lady Truckers Club is the one and only FREE club for lady truckers who live and work in the UK. Founded by Wendy 'Mothertrucker' Priestley the club has gone from strength to strength and as so many lady truckers from all over the world have heard of the club and want to join the 'International Lady Truckers Association' was founded - so now women truck drivers from all corners of the globe can be united.

The club is intirely FREE to join and members meet at many truck shows and Truckfests throughout the season and also arrange get togethers in their own areas.

The annual club Campout is at the hugely popular Kustom Kulture Blastoff held each year at the Lincoln showground with discounted tickets for members.

There are many benefits of membership from discounted truck polish to beauty products and many other discounted .

All UK lady truckers are welcome to join. For more information visit our website www.mothertruckers-ladytruckersclub.webs.com or go directly to our Facebook page to join.


Drivers Medicals

Download Medical Forms and find cheap medical centre near you.


Provisional Driving Licence Order Form


Mothertrucker Books Relating the adventures and misadventures of a lady trucker on the roads of Europe


WHITE DIAMOND POLISH

White Diamond Detail Polish sponsors Priestley LGV.

White Diamond products keep your truck at show standard.

You have tried the rest now try the best.

White Diamond Detail Polish


Drivers Medicals Boston Area

£60 Drivers Medicals for those in the Boston Area


http://www.1st-move-training.co.uk/

Priestley LGV Recommend 1st Move Training for all your CPC needs.