What it Costs

PRIESTLEY LGV TRAINING are pleased to announce that our prices are still the same as they were in 2014.
We pride ourselves in offering good service for a fair price.
At PRIESTLEY LGV Training we do not dress up our prices. We charge the flat fee for all our training courses plus cost of practical test - That's it - No hidden extras!
Our Current PricesL
Our Cat C (Rigid) course is £940 - plus £115 DSA test fee.
The course is an intense one to one training course run over three, four or five days to suit customer convenience with the test at the end of the course.
Our Cat C+E (Artic)course is £1,255 plus £115 DSA test fee.
The course is one to one training and is run over four or five days to suit you and is designed to give maximum benefit for those training on our Artic (Category C+E) vehicle. Our basic course, as above, is also available to those who want a shorter Artic course and have had some experience with trailers.
We find that most people can reach the standard required to pass the test with the courses we offer, but if you have any particular requirements please feel free to call and ask. We are always happy to discuss what the customer wants.
ALL THE ABOVE ARE SOLO ONE TO ONE COURSES.
Just you and the instructor in the cab throughout the course.
*******
Please Note: All new LGV drivers now have to complete 'Module 4' (CPC) prior to driving commercially.
PRIESTLEY LGV offer 'Module 4' Training at £150.
* * * * * *
WE OFFER A DAY REFRESHER COURSES AT £299 FOR DRIVERS WHO ALREADY HOLD AN LGV LICENCE BUT HAVE NOT DRIVEN FOR SOME TIME.
*******
NIGHT TIME DRIVING FOR A NEWLY QUALIFIED DRIVER CAN BE VERY DAUNTING. PRIESTLEY LGV OFFER A SHORT NIGHT-TIME DRIVING COURSE TO GIVE THE NEW TRUCKER CONFIDENCE IN HANDLING A LARGE VEHICLE ON DIMLY LIT ROADS.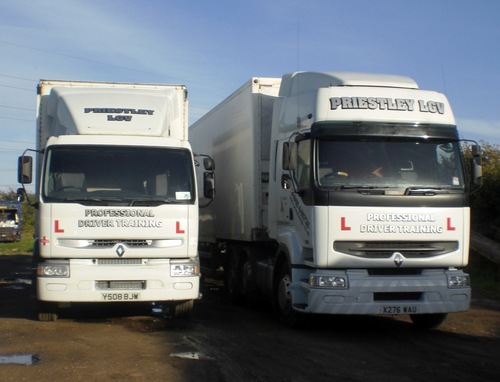 Priestley LGV only use full size vehicles to give the trainee realistic experience of driving a truck for a living.

Q. What do I do now?
A: If you are starting out with your Cat C you will need a Medical. You can use your own doctor or we can recommend one who specialises in LGV Medicals. (See Links Page for details of LGV Driver Medicals and download Medical forms.)
You will also need provisional entitlement on your driving licence for LGV. Pass your Theory and Hazard Perception test then start your driver training with PRIESTLEY LGV
Contact us and we will provide all the relevant forms you require and help you book your medical and theory tests.
Should you be unsure of your capabilities with a large vehicle we can and arrange an assessment drive should you feel you need one for only £30.
Our training methods are tried and tested and we pride ourselves on a high pass rate and giving the best service possible to our customers.
We look forward to hearing from you and helping you to become a fully professional driver.